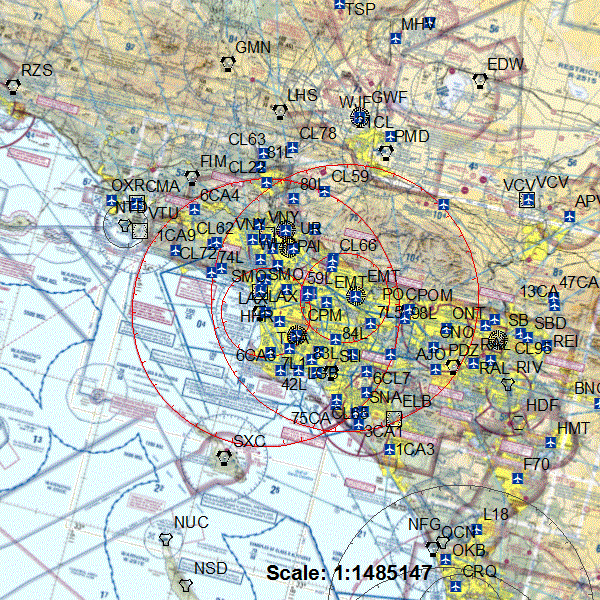 The FAA has established a TFR (Temporary Flight Restriction) that will be affecting our flying field from 11:00 AM through 5:30 PM Tuesday 3/14/23.
Robin's flying field will be closed to all radio controlled flying.
Detail of the TFR are below. Thank you for cooperation in this matter.
An FAA NOTAM/TFR has been issued for Los Angeles, CA and the surrounding areas for Tuesday, March 14, 2023 at 11:00 a.m. PDT through 5:30 p.m. PDT. The TFR was issued for VIP movement in the area. Outdoor radio control model aircraft operations are prohibited within a 30 nm radius for the specific times listed below. Control Line and Free Flight modelers should use discretion when operating within the TFR. Please note that TFRs are subject to change with very short notice. Check back often for the most current NOTAM/TFR information.
See the links to the TFR below for more detailed information regarding the restrictions:
Area A
Airspace Definition:
Center: On the LOS ANGELES VORTAC (LAX) 050 degree radial at 1.3 nautical miles. (Latitude: 33º56'33″N, Longitude: 118º24'29″W)
Radius: 30 nautical miles
Altitude: From the surface up to and including 17999 feet MSL
Effective Date(s):
From March 14, 2023 at 1800 UTC (March 14, 2023 at 1100 PDT)
To March 14, 2023 at 1930 UTC (March 14, 2023 at 1230 PDT)
Area B
Airspace Definition:
Center: On the LOS ANGELES VORTAC (LAX) 050 degree radial at 1.3 nautical miles. (Latitude: 33º56'33″N, Longitude: 118º24'29″W)
Radius: 10 nautical miles
Altitude: From the surface up to and including 17999 feet MSL
Effective Date(s):
From March 14, 2023 at 1800 UTC (March 14, 2023 at 1100 PDT)
To March 14, 2023 at 1930 UTC (March 14, 2023 at 1230 PDT)
Area C
Airspace Definition:
Center: On the POMONA VORTAC (POM) 253 degree radial at 14.7 nautical miles. (Latitude: 34º04'12″N, Longitude: 118º04'53″W)
Radius: 30 nautical miles
Altitude: From the surface up to and including 17999 feet MSL
Effective Date(s):
From March 14, 2023 at 1830 UTC (March 14, 2023 at 1130 PDT)
To March 14, 2023 at 2345 UTC (March 14, 2023 at 1645 PDT)
Area D
Airspace Definition:
Center: On the POMONA VORTAC (POM) 253 degree radial at 14.7 nautical miles. (Latitude: 34º04'12″N, Longitude: 118º04'53″W)
Radius: 10 nautical miles
Altitude: From the surface up to and including 17999 feet MSL
Effective Date(s):
From March 14, 2023 at 1830 UTC (March 14, 2023 at 1130 PDT)
To March 14, 2023 at 2345 UTC (March 14, 2023 at 1645 PDT)
Area E
Airspace Definition:
Center: On the LOS ANGELES VORTAC (LAX) 050 degree radial at 1.3 nautical miles. (Latitude: 33º56'33″N, Longitude: 118º24'29″W)
Radius: 30 nautical miles
Altitude: From the surface up to and including 17999 feet MSL
Effective Date(s):
From March 14, 2023 at 2245 UTC (March 14, 2023 at 1545 PDT)
To March 15, 2023 at 0030 UTC (March 14, 2023 at 1730 PDT)
Area F
Airspace Definition:
Center: On the LOS ANGELES VORTAC (LAX) 050 degree radial at 1.3 nautical miles. (Latitude: 33º56'33″N, Longitude: 118º24'29″W)
Radius: 10 nautical miles
Altitude: From the surface up to and including 17999 feet MSL
Effective Date(s):
From March 14, 2023 at 2245 UTC (March 14, 2023 at 1545 PDT)
To March 15, 2023 at 0030 UTC (March 14, 2023 at 1730 PDT)